Washingtonian Woods was built in the late 1980s by three builders: Centex Homes, Christopher Homes, and Joeseph Alfandre.  Shortly after completing Washingtonian Woods, Alfandre went on to design and build the Kentlands in the early 1990s.
Interestingly, the land on which our neighborhood is built was once the Washingtonian Golf Course, one of two golf courses in the area once owned by Russian real estate developer and builder, Sam Eig.  Also, on our lands was Nike Missile site W-92, part of the U.S. Army's Project Nike anti-aircraft missile system.  Site W-92 was in active operation from 1954 to 1974, and once this site was decommissioned in April 1974, it was redeveloped into a US Consumer Products Safety Commission Engineering Laboratory.  There are now plans to turn this 10-acre site into a city park, as Gaithersburg City Council member Ryan Spiegel recently announced.
Much of what we still see today in the areas surrounding our community was also once owned by Sam Eig.  Eig was quite instrumental in the suburbanization of Montgomery County.  During the mid-1950s Eig built the 300-acre Washingtonian Center in, what was then, an isolated outpost along interstate 270.  At the time, the site consisted of the Motel Washingtonian, an 18-hole Washingtonian Country Club and the 26-story Washingtonian Towers Apartments. The Towers still stands today alongside numerous apartment buildings, Downtown Crown, and the RIO Washingtonian Center.
Washingtonian Woods Golf Course
The 1973 arial picture below shows the original Washingtonian Golf Course and Nike Missile site W-92.  You can also clearly see Muddy Branch and Darnestown Roads, Belward Farm, and the Washingtonian Towers off in the distance.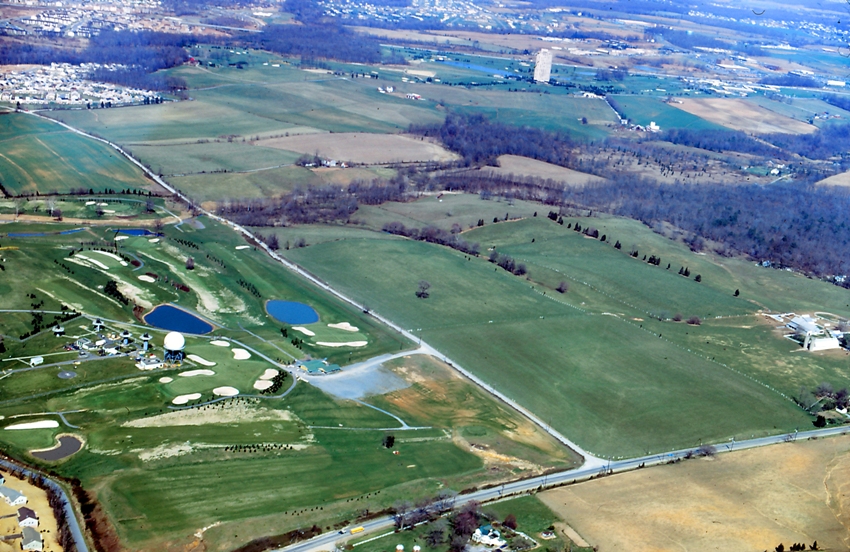 Washingtonian Golf Course / Nike Missile Site / Muddy Branch Road / Belward Farm – 1973
(source:  www.gaithersburghistory.com)
The Washingtonian Complex

Washingtonian Towers, Washingtonian Country Club, and Motel Washingtonian, circa 1955.

(source:  www.cardcow.com
)
Motel Washingtonian

"The smartest place to be near Washington D.C. New National Pike, US 240 at Shady Grove road. Rockville, Montgomery County, Md. Phone Gaithersburg, Md. 870. AAA 3 magnificent restaurants, 97 air-conditioned rooms, 95-foot swimming pool, 6 tournament tennis courts, secreterial switchboard, Esso Service Station, free Stromberg Carlson 21″ TV, radio and HI-FI music in every room"
(source:  www.cardcow.com)