Hello Neighbors,
Well, October is here and that means that Washingtonian Woods' annual Halloween traditions are right around the corner!
Annual Washingtonian Woods Fall Festival
The Annual Washingtonian Woods Fall Festival will be held Sunday, October 29th @ 3pm at Washingtonian Woods Park.
Schedule of Events
– Games & Music @ 3:00 pm
– Costume Parade @ 4:00pm
– Candy Hill for 5th-8th graders @ 4:15pm
– Candy Hill for 4th grade & younger @ 4:30pm

FOOD TRUCK, REDSKINS & KIDS MOVIE @ 5pm
Ready for more?  After Fall Fest, head to the Clubhouse to watch the Redskins play the Cowboys. Kids can hang downstairs for a special viewing of Hotel Transylvania! And, the Branded '72 Pit Barbeque Food truck will be at the Clubhouse at 5:15pm serving food.

As a reminder, this is a neighborhood-sponsored (not public) event. Visit our web site at www.washwoods.org for inclement weather event updates.
Halloween House Decorating Contest
Show your Halloween spirit and decorate your house for the annual Washingtonian Woods Halloween House Decorating Contest! Judging will begin at 6pm on Saturday, Oct. 28th. Winners announced on Sunday, October 29th – Prizes for 1st, 2nd, 3rd.
Get B00-ed!
Keep the Halloween spirit going all season.  Feel free to Boo! someone (by leaving this flyer and a treat on a neighbor's doorstep), or keep it going when you get Boo-ed!  You can download a Boo Buddy here.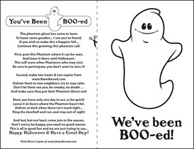 We have many new families in the neighborhood, please reach out to your new neighbors and invite them to join the fun. Hope to see you there! Happy Halloween!
Thank you,
Glenn Watts
Board of Directors, Washingtonian Woods HOA