Hello Neighbors,
Just a friendly reminder that we are looking forward to seeing you for our annual 4th of July Party coming up on Tuesday July 4, starting at 12 pm!
Red, White & Blue Parade
Tuesday, July 4 (11:30 am – 12 noon)
(Decorating starts at 11:00am; Parade starts at 11:30am)
We'll be marching as a group from the Tot Lot at Driscoll and Upshire all the way down to the pool. Feel free to decorate your bikes and scooters beforehand, or meet at the park at 11:00am to decorate onsite (we will have some decorations on hand.) The parade starts promptly at 11:30am. If you can't march in the parade, feel free to come out and grab a spot along the parade route to enjoy the parade and show your support.
Parade Route
This year's parade route will start again at the Tot Lot near Upshire Circle and Driscoll Way, and will mostly run along Midsummer Drive. If you happen to live along the 300, 400, and 500 blocks of Midsummer Drive, we kindly ask that you avoid on-street parking during the parade window of 11am – 12 noon, if possible. Please see below for this year's parade route.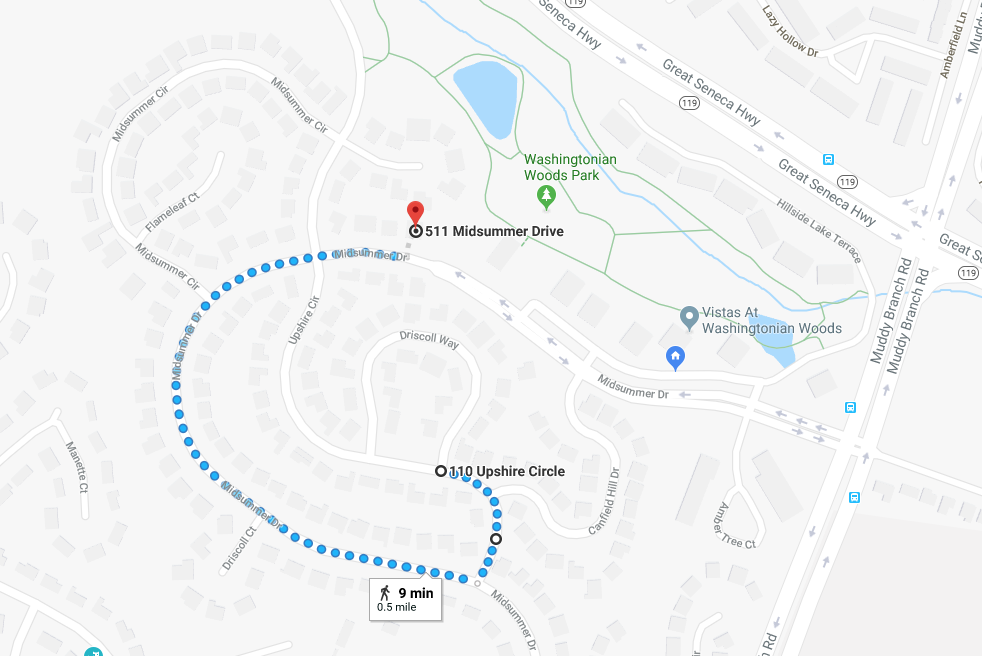 BBQ and Pool / Raft Party (12:00 pm – 5:00 pm)
** The pool party and BBQ is a private event, exclusively for members of the neighborhood, as well as outside members of the pool.
* Each Pool member will be checked-in and tickets will be handed out as you enter the pool. Please note that each ticket serves as your ticket for Lunch. (If you have not yet registered THIS year with the pool — please do so now.)
* Lunch will be provided and served by The Bean Bag Deli from 12:00 – 1:30 PM. Burgers/hotdogs and sides will be served. The Social Committee will also provide beverages and chips. Please note: only ONE protein will be provided per person (i.e. either a burger, a hotdog or Veggie burger.)
*Bake Off Desserts and Ice Cream novelties will be served from 3:00 – 4:00 PM
If you would like to participate in the Bake Off, please have your dessert (could be non-baked item —  ie dipped strawberries — all desserts will be judged on patriotic appearance and taste) to the lower level of the clubhouse no later than 1:30pm on the day off.
* Please feel free to bring additional food/drink for your family to enjoy. No glass containers please!!!
* We will have fun games to participate in, including water balloon toss, belly-flop contests, and more! Come on out and join the fun! Sign-up sheets for the games will be posted in the pool area on the day.
* Please, please, please clean-up your area when finished! And offer to pitch in and help out as well.
* Due to the large number of attendees, please consider bringing a chair/blanket of your own.
Volunteers
Finally, we can't make all of this happen without volunteers! There are many ways to help and we still have many slots that need to be filled. Please take a moment to look at the available slots and sign up today!
Gaithersburg SummerFest and Fireworks
Saturday, July 1, 2023
6:00pm – 11:30 PM
Celebrate America's independence with friends & family at SummerFest, Gaithersburg's illuminating summer festival on the expansive grounds of Bohrer Park at Summit Hall Farm. The free event takes place on SATURDAY, JULY 1, 2023, from 6 to 11:30 p.m. The festival features live music, food trucks, local breweries, family-friendly activities, all leading up to a spectacular fireworks display & SummerGlo After Party.
SummerFest kicks off at 6 p.m. with Attraction, one of DC's top dance bands. Enjoy delicious offerings from food and local craft beverage vendors, including Saints Row Brewing, Lone Oak, True Respite, and Waredaca. ATMs available onsite. The air-conditioned Activity Center will serve as a comfort station with indoor bathrooms and space to relax up until 9 p.m.
You can learn more about this spectacular event at the City's SummerFest web page.
We hope everyone is staying safe and well.
Thank you,
Glenn Watts
Board of Directors, Washingtonian Woods HOA