Hello Neighbors,
The Washingtonian Woods Board and Social Committee have been hard at work monitoring the latest in State, County and local guidelines, in continued efforts to plan and coordinate safe neighborhood festivities and gatherings. And, we are pleased to announce that after a year hiatus, the Annual Washingtonian Woods 4th of July Parade, BBQ and Pool Party will be held once again this year! This year's festivities will be held on Sunday, July 4th.
Please see below for our Schedule of Events:

Red, White & Blue Parade (11:30 am – 12 noon)
(Decorating starts at 10:30am; Parade starts at 11:30am)
Time to don your proudest red, white & blue, and decorate those bicycles, strollers, big wheels, scooters, wagons and pets! We'll be marching as a group from the Tot Lot at Driscoll and Upshire all the way down to the pool. Feel free to decorate your bikes and scooters beforehand, or meet at the park at 10:30am to decorate onsite (we will have some decorations on hand.) The parade starts promptly at 11:30am. If you can't march in the parade, feel free to come out and grab a spot along the parade route to enjoy the parade and show your support.
Neighbors are also encouraged to fly your American flags!
Parade Route
This year's parade route will start again at the Tot Lot near Upshire Circle and Driscoll Way, and will mostly run along Midsummer Drive. If you happen to live along the 300, 400, and 500 blocks of Midsummer Drive, we kindly ask that you avoid on-street parking during the parade window of 11am – 12 noon, if possible. Please see below for this year's parade route.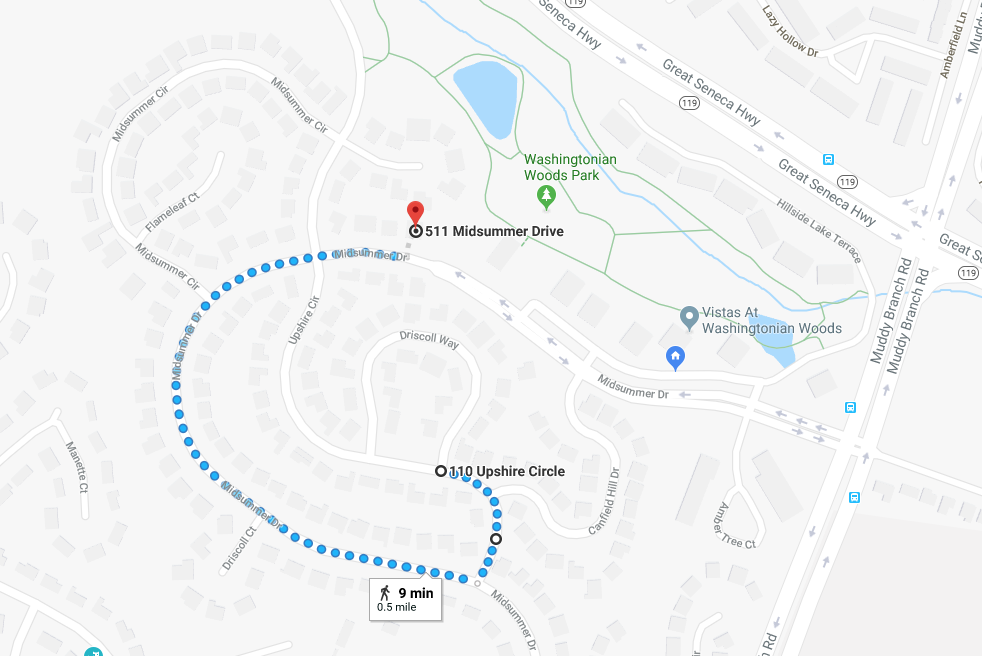 BBQ and Pool Party (12 pm – 4 pm)
Food, Games and Music 12pm – 4pm
We are excited to partner with the Bean Bag Deli who will cater our traditional 4th of July celebration this year! Lunch will be served from 12pm -1pm and include hamburgers/cheeseburgers, hotdogs, veggie burgers, mac and cheese, and baked beans. Chips and drinks will also be provided. From 2pm – 4pm, Carmen's will be serving Italian Ice and Custard!
Games will include water balloon toss, belly-flop contests, and more! Come on out and join the fun!
Please note: the pool party and BBQ is a private event, exclusively for members of the neighborhood, their families, as well as outside members of the pool.
Volunteers
Finally, we can't make all of this happen without volunteers! There are many ways to help and we still have many slots that need to be filled. Please take a moment to look at the available slots and sign up today!
If you have any questions, please feel free to contact Marcie Blackman via email at: [email protected] or Rhonda Haley at: [email protected].
Happy Birthday, America! Hope to see you all there!
Gaithersburg SummerFest and Fireworks
Unfortunately, due to uncertainty about gatherings during the extensive advance planning stages, SummerFest and its traditional fireworks display could not be coordinated in time for 4th of July weekend. Fireworks & stage entertainment are being planned for the Sunday of Labor Day weekend, September 5, replacing the traditional Labor Day Parade this year only. More details will be available later this summer. You can learn more about this spectacular event at the City's SummerFest web page.
Neighborhood Web Site
This email communication as well all previous HOA emails are always cross-posted in the "News" section of the Washingtonian Woods Web Site (www.washwoods.org). Neighbors are encouraged to reference our web site as it contains helpful links, documentation, and neighborhood information.
We hope everyone is staying safe and well.
Thank you,
Glenn Watts
Board of Directors, Washingtonian Woods HOA
www.washwoods.org