Hello Neighbors,
Well, October is here and that means that Washingtonian Woods' annual Halloween traditions are right around the corner!
Halloween Parade & Candy Hill
This year's Halloween Parade (featuring Costume Contest and Candy Hill) will once again be held at Washingtonian Woods park.  Come decorate a pumpkin, show your creative spirit, and watch the fun at Candy Hill!  Drinks and snacks will be provided.
When:  Sunday, 10/25
Time:  3:30pm
Volunteers Needed:  We are looking for volunteers to help with our festivities.  Please check out the Signup Genius page for more information on how you can sign up and help.
Halloween House Decorating Contest
Show your Halloween spirit and decorate your house for the annual Washingtonian Woods Halloween House Decorating Contest!  In order to participate, please have your house decorated by the end of the day on Friday, October 30th.  Judging will be based on creativity, uniqueness and curb appeal and will take place on October 31st.
Prizes will be awarded to the top three homes.  Winners will be announced through our web site, mailing lists and Facebook group after Halloween. Good luck and happy decorating!
Get B00-ed!
Keep the Halloween spirit going all season.  Feel free to Boo! someone (by leaving this flyer and a treat on a neighbor's doorstep), or keep it going when you get Boo-ed!  You can download a Boo Buddy here.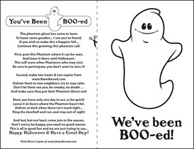 Happy Halloween!
Thank you,
Glenn Watts
Board of Directors, Washingtonian Woods HOA